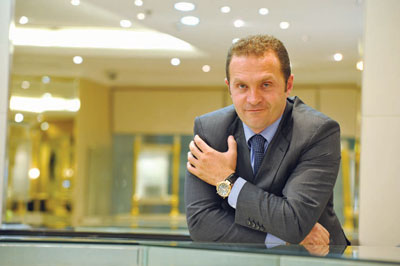 Pascal Mouawad, Co-Guardian, Mouawad shares his vision and plans for the company in a candid interview with Mayank Singh.
Mouawad has seen a generational shift recently with the fourth generation taking over the reins of the business recently. What changes can we expect to see in the business as a result of this shift? 
Mouawad is a 122-year-old business house which was started way back in 1890 by my great grandfather. He left his native country Lebanon and went to Mexico and the US, where he learnt the craftsmanship of watch making. He returned to Lebanon and his son Fiaz, my grandfather, took over the business. Fiaz decided to expand the business and went to Saudi Arabia, and soon became the royal jeweller for the King and Queen.
He also got a Royal Decree to operate a business in Saudi Arabia as a foreigner. My father wanted to be a doctor and went to study medicine in Paris, but at the suggestion of his family he went back to Saudi Arabia to help with the business.
Over 47 years, as the president of Mouawad, he was instrumental in growing the business from a two store operation to a multinational company spanning 12 countries. He took the business to Switzerland, expanded into Asia and at one point had 35 stores in Japan. Mouawad also became a big player in the diamond market, acquiring some of the largest diamonds in the world.
In 2009 he had a heart surgery and decided to retire by handing over the business to the fourth generation, that is my brother Fred Mouawad and myself. We took over the business in 2010 and it is our responsibility to take the business to the next level. We decided to call ourselves co guardians, as we are two of us and our job is to be gate keepers and to strengthen the brand till the next century.
Ten years ago my father had diversified into the real estate business and so to an extent the business was stagnant. We have decided to create a new generation store concept and have redesigned our stores. Our first flagship store opened in Dubai Mall, UAE around two years back. We opened up our regional office in Dubai and are opening a regional factory there too.
We have hired a strong management team in Dubai to help grow our business. In the last year and a half we started expanding the number of our stores; we opened our second new generation store in Beirut. We have opened our flagship store in Jeddah, and are opening in Kuwait, Qatar. Our store in Oman is locating inside the Opera Mall. And later this year we will be opening in Abu Dhabi.
As a part of the strategy we decided to move from being a house of brands to a brand house. Historically, we were selling about 20 brands in the Mouawad boutiques but we decided to go mono brand with the Mouawad name and we will be selling only our own brand in our stores, with multiple categories like high jewellery which are masterpieces, one of its kind expensive pieces and the collection boutiques which are more affordable.
We have always been an aspirational brand, something that was sold to royalty and very wealthy people, so people looked at us and felt that we may be inaccessible. To change this perception we started advertising collections that were more affordable and available at lower price points. For example, the average price point of the boutique collection would be around $5,000 (RO2,000) and then there are the masterpieces which have a price tag of $1mn to $10mn. We are also known for our object of arts, which is the third category. We are now focussing on diamond classic, the classics and bridal jewellery.
Finally, the fifth strand of the mono brand strategy is watches. In 1972 my father started a company called Roberje Geneve, and we still carry that brand, but as a part of our new strategy we are going to carry the Mouawad watch brand. We are introducing Little Summer, which are watches under the Mouawad name. To sum up, we are capturing multiple price points across categories, moving into a mono brand strategy and want to have a flagship store in each key city in the region.
How do you plan to convey Mouawad's new offering and changes to customers in the region?
We are big believers in marketing and branding, as all customers are looking at buying a dream or brand. We have upped our marketing budget and are very active. Mouawad is amongst the top five advertisers in the region and we advertise in magazines in a big way.
Lately we have started advertising on TV. Last year we did a TVC campaign on NBC and we are doing product placements in video clips. We are known as an international brand so we dress certain celebrities in Hollywood, do events and sponsorships. Our advertising budget is in the range of $5mn and it has grown considerably compared to where we were.
Having gone in for a mono brand strategy, are you going to increase your manufacturing capacities commensurately?
We are a fully integrated company with our own office to buy gem stones. Mouawad has done a joint venture with a diamond site holder, so we are becoming partners in a diamond site. We have offices in New York, Antwerp and Bangkok to buy stones; we have our own prototype workshops and a watch factory in Switzerland. Overall, we have a lot of manufacturing capacity and are not concerned about capacity constraints.
Why was the need felt to reinvent the brand? Was there a recognition that somewhere the brand has lost out in the last few years?
The brand is very strong, but it had got a bit stagnant due to a lack of marketing activity, but now we are pulling our weight behind the brand. We are investing behind the brand and we no longer want to put our money behind other brands as we have done in the past. The market was slow in 2009-2010, but things are picking up and we are on a major expansion path, opening five stores in the next six months and there are plans to open additional stores next year. Worldwide we have 14 stores and we are looking at adding five stores every year.
What makes you confident that as a mono brand you can take on stores that are selling some of the best brands in the world?
I am confident that we may perhaps lose some sales in the short term, but we will win in the long term for a number of reasons. First, we do not think that other brands are better than us. We have the know-how and skill sets to make jewellery, design and sell it, so why should we sell other brands? By controlling our distribution we are also controlling our discounts; if you have your own brand you have more margins and this will enable you to advertise more. And by advertising more we will create more demand for our brands. We have had experiences wherein we have built a brand and others have taken it away from us and given it to someone else, so we don't want to be at someone's mercy.
It's been 122 years, but it still remains a family owned business, why have you not professionalised the company?
Ours has always been a family-run business; it used to be a one man business and now it is a two man business. We are definitely thinking of institutionalising the business and possibly making it public in the years to come, but nothing has been decided as of yet, but it is definitely something to think about.